SERVICES  /  LEGACY PLANNING
MORE THAN MONEY
At Wealth Impact Advisors, we believe that legacy planning starts with knowing what is in the hearts of our clients. Legacy planning is not just about protecting your financial assets but also about preserving family relationships. With that in mind, our planning process is designed to help you address your family's personal concerns such as:
What values do I want to support and what outcomes do I want to promote?
How do I optimize my plan without giving up control of my assets?
How can we get all of our family members on the same page so that there is less conflict?
Are my children's assets protected from divorce, creditors, etc.?
How much is enough to accomplish these important results?
As part of our process, we help you first focus on the big picture of what you want to see happen with your assets, family, business, and charities. From there, we work with you and your other advisors to develop a game plan of action items that will ensure your most important wishes are realized. This includes mapping out where your assets would flow upon death and to whom they will go. We also look at the tax consequences of your wealth transfer and develop recommendations to help you optimize and preserve the amount of money being transferred.
SERVICES  /  CHARITABLE PLANNING
MAKING A DIFFERENCE IN THE WORLD AROUND YOU
MOVING UP THE PLANNING PYRAMID
After we have made provisions for our personal needs throughout our lifetimes, and those of the next generation, we can move to the pinnacle of the planning pyramid which is social capital legacy.
Gifts to charitable causes or organizations need not come at the expense of your own financial needs or providing for your family. With the right kind of planning and expertise, you can usually redirect assets otherwise earmarked for taxes to causes and organizations that will achieve the kind of social impact you hope to make.
This is taking involuntary philanthropy and transforming it into voluntary philanthropy. Your redirected tax liabilities, along with additional wealth not required by you or your family, make up what we refer to as your "excess" wealth. Most people don't know they have it, but they often do. If you knew you did, might you do some things differently? Live more? Give more?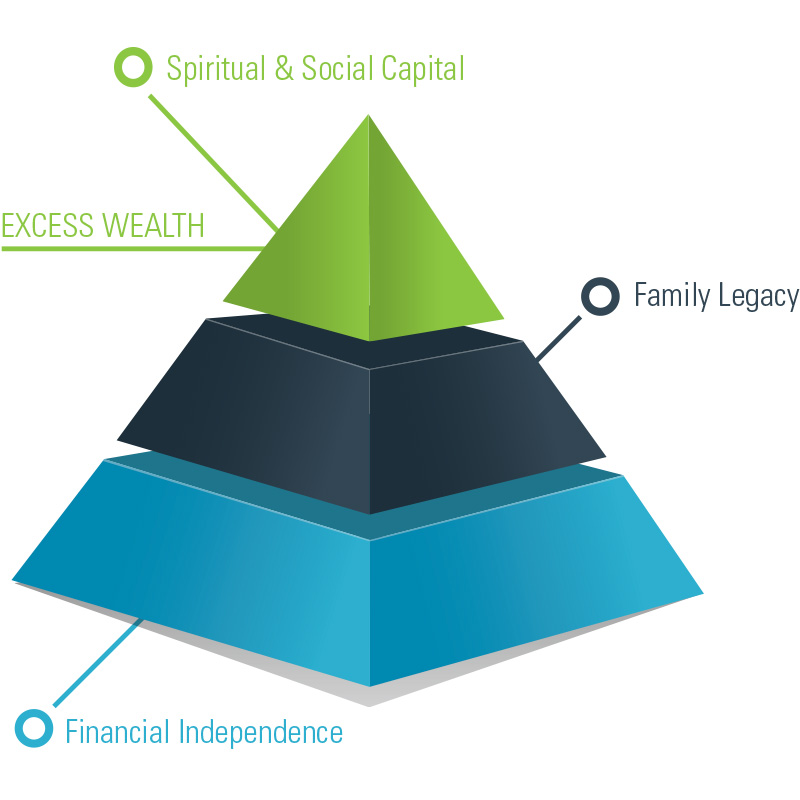 ARE YOU READY TO GET STARTED?
Wealth Impact Advisors, LLC
E: info@teamwia.com

33 Merz Blvd Suite 100
Fairlawn, OH 44333
P: 330.865.3545
F: 330.319.8959
Securities offered through Valmark Securities, Inc., Member FINRA/SIPC. Advisory services offered through Valmark Advisers, Inc., an SEC Registered Investment Advisor. 130 Springside Drive, Suite 300, Akron, OH 44333-2431 · (800) 765-5201. Wealth Impact Advisors, LLC is a separate entity from Valmark Securities, Inc. and Valmark Advisers, Inc.